Lonnie Tapia Art Collections
Shop for artwork from Lonnie Tapia based on themed collections. Each image may be purchased as a canvas print, framed print, metal print, and more! Every purchase comes with a 30-day money-back guarantee.
Artwork by Lonnie Tapia
Each image may be purchased as a canvas print, framed print, metal print, and more! Every purchase comes with a 30-day money-back guarantee.
About Lonnie Tapia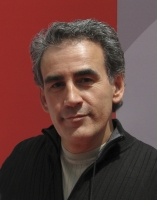 Lonnie C. Tapia, after obtaining a Bachelor Of Fine Arts with an emphasis in Commercial Art, I had achieved substantial recognition for regional and national illustration, painting, and graphic design. I was then recruited to the retail market as a Creative Director / Point Of Sale Marketing Manager, at the director level for mass-merchants and specialty retailers. Two of the retailers had been struggling for several years to achieve a billion dollar status. I was hired to add some unique creativity to these organizations, the mission was to re-image and re-position them for enhanced sales and increased market share. Within eighteen months of establishing new marketing directions, and with a new emphasis on creative solutions, we realized the corporate goal of achieving one billion dollars in sales. Understanding what motivates customers to buy in a predictable way is the essence of marketing. Primary areas of marketing and advertising expertise are: marketing strategy, store signage, packaging (300+ programs), graphic design, product development, radio, TV, promotions, advertising, and photography. After a great deal of fun and success within the retail industry, I now enjoy producing art in any, and all mediums. I still do a great deal of graphic design in a variety of different industries; however, it is art that drives and motivates me. Now a few words regarding my philosophy towards art. I firmly believe in ability to create acedemic art first, but I love to create art that is instinctive, fast, spontaneous, but the most important aspect is to create many of my pieces with no pre-concieved idea of what the final outcome will look like. I also apply this approach to sculpture, regardless of the material. This approach keeps it fun for me, and often bestoes a very creative end result. My world must have four ares of creative endeavor that are in constant rotation: (1) Two dimentional art (drawing, painting, mixed media), (2) Sculpture produced in all materials, (3) Photography, (4) Commercial / Graphic Design in Mac and PC format. The game of life is a long one, and the challenges that face us often determine our successes and failures, and the art that we produce. My best work begins tomorrow. I hope that you take a moment and look at these different ares of creative work, and in the images you will find my thoughts. If you do not see what you are really looking for then lets talk about what I can create for you. Commissions in all form, style, and color are welcomed. The areas of creative endeavour are so tightly woven together that I believe myself to be trapped within the fabric. Now allow me to boast of my family, which represents the most important part of my life...Two handsome boys nearly grown named Jesse, and Niko, and a wonderful wife that has learned to dance among the chaos of being married to an artist.